10 Underrated Fantasy Football Quarterback/Wide Receiver Duos for 2020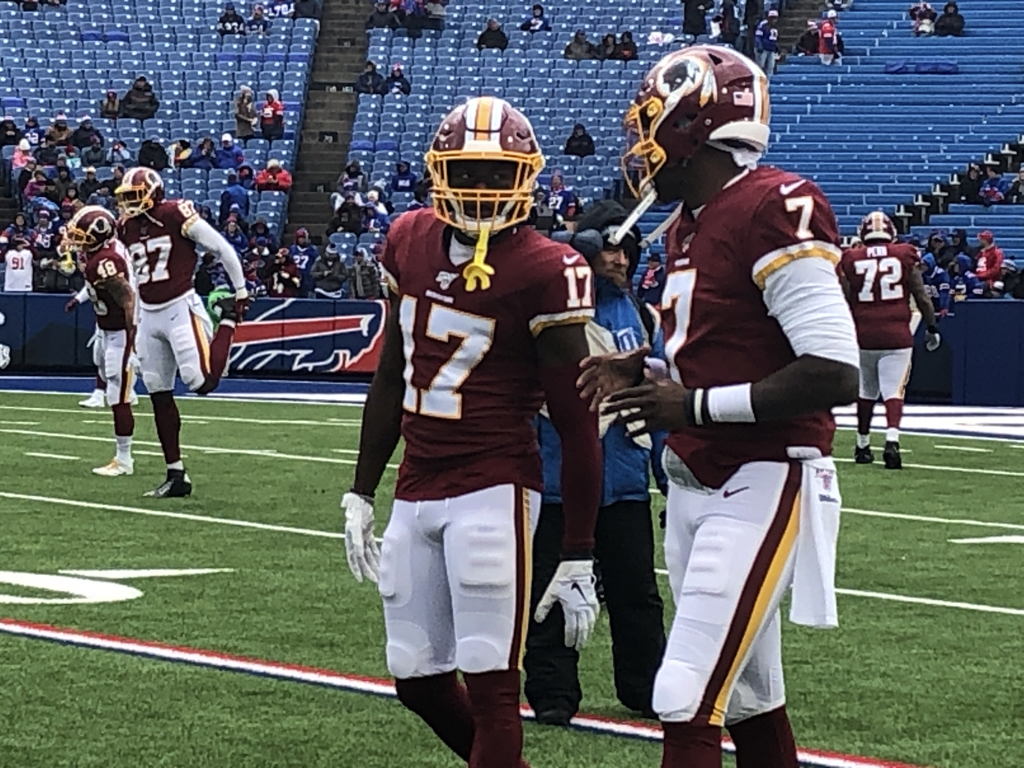 With much-appreciated Twitter contribution and request, I whipped up a little fantasy coverage on some same-team quarterback and wide receiver (QB/WR) duos who are entering 2020 a little under the radar.
Let's give some love and attention to these 10 fantasy QB/WR duos — worthy of stashing — who stand to outperform their current average draft position (ADP).
Drew Lock (ADP 13.07) and Jerry Jeudy (ADP 11.06), Denver Broncos
Lock can be drafted cheaply because he started in only five games in his rookie 2019 season. But, he is primed for success in 2020! Lock will be surrounded by talent including rookie wideout (and Alabama standout) Jerry Jeudy, who has reportedly been working out with Lock every day.
Daniel Jones (ADP 9.08) and Darius Slayton (ADP 9.08), New York Giants
Go ahead and kick the tires on Jones who is entering his second year. He averaged two passing touchdowns per game in 2019 and will continue to develop. And, only sleep so long on Slayton, who as a rookie last year scored eight touchdowns on 48 receptions.
Jarrett Stidham (Past Round 15) and N'Keal Harry (ADP 10.10), New England Patriots
The Patriots can no longer be penciled in as winners minus Tom Brady. Instead, Stidham will need to use his arm to keep the ball in play. Currently, the second-year QB is off the radar in mock drafting. Meanwhile, Harry can be snagged quite low. This QB/WR tandem (expertly coached by Bill Belichick) is worth owning in deeper leagues and in dynasty.
Teddy Bridgewater (ADP 14.11) and D.J. Moore (ADP 7.01), Carolina Panthers
Bridgewater's injury-riddled history and his 34 game starts since 2014 are not very alluring. But he is now healthy, and last completed 67.9% of his passes in New Orleans. The Panthers view Bridgewater as a solid starter and he should help Moore keep improving.
Derek Carr (ADP 14.08) and Henry Ruggs (ADP 12.12), Las Vegas Raiders
Carr is an incredible steal for his ADP. He last completed 70.4% of his passes and now has the speedy Ruggs fresh out of Alabama as a deep threat downfield. This duo makes a sneaky late-round stash that holds starter potential.
Sam Darnold (ADP 14.04) and Jamison Crowder (ADP 13.02), New York Jets
Darnold is currently backup-worthy but possesses upside with the Jets often playing from behind. And, there to take advantage of Darnold's garbage throws is Crowder who doesn't have much competition when it comes to his fellow WRs.
Ben Roethlisberger (ADP 12.08) and Diontae Johnson (ADP 10.11), Pittsburgh Steelers
In past years, Roethlisberger was a reliable starter. But now he is returning from a long injury season and many fantasy QBs hold a lot more appeal. If healthy, Big Ben will be a draft bargain in 2020. Look for him to target Johnson, plenty, when defenses are double-teaming fellow WR, JuJu Smith-Schuster.
Dwayne Haskins (Past Round 15) and Terry McLaurin (ADP 6.04), Washington Redskins
Haskins is an afterthought in mock drafting due to his rocky, partial rookie season. But, he is all the talk after being recently observed looking sharp in practices.
Draft him as a backup and do not sleep too deeply on McLaurin who should improve on his 919 yards and seven touchdowns achieved in his 2019 rookie year.
Gardner Minshew (Past Round 15) and D.J. Chark (ADP 4.07), Jacksonville Jaguars
The Jaguars' offense typically has to air things out because it's usually lagging behind. This equates to garbage yards galore from Minshew to Chark. Chark became fantasy relevant last year when he produced eight touchdowns and 1,008 yards.
Ryan Tannehill (ADP 13.02) and A.J. Brown (ADP 4.04), Tennessee Titans
Tannehill's ADP remains low because the Titans are a run-first offense. This designates him as a fantasy backup or a guy for your super flex spot. As for Brown, he should remain a WR2 with room to improve after recording eight touchdowns and 1,051 yards as a rookie last year.