Top 10 Fantasy Football Quarterback Ranking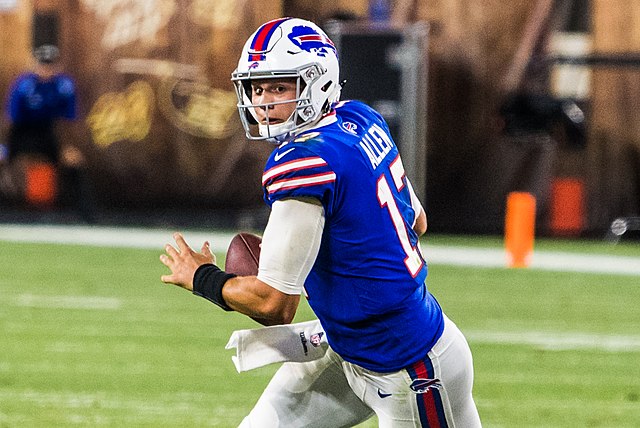 These are my top 10 fantasy football quarterbacks heading into kickoff. This list has definitely evolved from my original top-10 QB tweet from February of 2021 (below).
Top 10 Fantasy Football Quarterbacks
1. Patrick Mahomes, Kansas City Chiefs
Until further notice, Mahomes owns No. 1. This dude has scored 120 touchdowns in his three years as a starting QB, while averaging 4,888 total yards per season. #FantasyGoldmine
2. Josh Allen, Buffalo Bills
Allen is improving as an NFL starter and just came from a fantastic 2020 fantasy season. Can he match or top his 4,544 passing yards and 37 touchdowns he recorded last year? His fantasy owners sure hope so.
3. Dak Prescott, Dallas Cowboys
I'll keep Prescott high on this list for now as he and the Cowboys try to iron out his future. He was the No. 1 fantasy quarterback at the time of his injury in Week 5 last year, after averaging 371 passing yards per game. Stay tuned.
4. Aaron Rodgers, Green Bay Packers
Right now, Aaron Rodgers is in a contract battle with his team and may not return in 2021.
However, if he does, Rodgers last threw for a league and career-high 48 touchdowns in 2020. Soak that in, friends. This accompanied a sweet 4,299 passing yards. As early drafting starts taking place, Rodgers is likely going to slip until his situation is cleared up. It is also possible he lands with another team, via a trade.
5. Kyler Murray, Arizona Cardinals
Fast on his feet (819 rushing yards and 11 rushing TDs in 2020), and handy in passing as well, I'm high on Murray to keep excelling as a top fantasy option moving forward.
6. Justin Herbert, Los Angeles Chargers
More Herbert, please. This kid was solid as a rookie, posting 4,336 passing yards and 36 combined TDs.
Those lucky enough to land Herbert this year should be in "set him and forget him" mode come Sundays.
7. Lamar Jackson, Baltimore Ravens
The hope in 2021 would be Jackson rebounds in his passing game that saw his touchdowns through the air decline by 10. Fortunately, Jackson makes up for points in rushing, running for over 1,000 yards in each of his last two seasons. Maybe the newly signed Sammy Watkins helps aid in getting Jackson some more passing yards, which his fantasy owners would love.
8. Tom Brady, Tampa Bay Buccaneers
Brady is far from washed up. Keep repeating this when you draft him in later rounds in 2021. This seven-time SB Champ last averaged 290 yards in passing per game and threw 40 "tuddy's" as Gronk would call them.
9. Matthew Stafford, Los Angeles Rams
Fantasy football fanatics are excited to see what Stafford will do with the likes of Cooper Kupp, Robert Woods, et al at his disposal in 2021. Working with an offense filled with super-talents should keep Stafford within a desirable QB1-2 range most every week.
10. Russell Wilson, Seattle Seahawks
Wilson returns to my rankings and it appears for now that he will stay in Seattle. I love the re-signing of Chris Carson to keep a balanced offense, and to help keep Wilson's arm strong as he continues to target his one-two punch duo of D.K. Metcalf and Tyler Lockett. Let's go!
Be sure to check back for updates. Cheers!