Deep Dive Fantasy Football Sleepers Who Could Surprise in 2020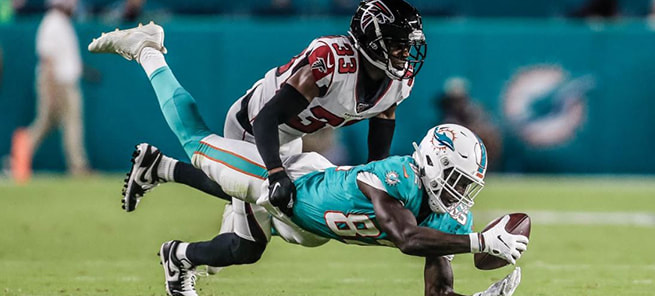 We all enjoy getting a good bargain that we did not spend much on originally, right? The same could be said about these four bargain-basement fantasy football players whose average draft position (ADP) remains very low in mock drafting. However, they could surprise in 2020.
Quarterback: Dwayne Haskins, Washington Redskins (ADP: Past Round 15)
Heading into the 2020 season, Haskins doesn't come with a ton of fantasy appeal. But, he is worth a late-round pick to stash on your bench. Here is why:
Garbage Yards: The Redskins could find themselves playing catchup more often than not. Thus, Haskins will be compensating through the air. Think of last year's fifth-place QB fantasy points that Jameis Winston racked up while constantly fighting to get his Buccaneers winning.
New Head Coach, Ron Rivera: Rivera once coached a fantasy stud in that of Cam Newton. Newton was a top-five fantasy scoring QB in five varying seasons working under Rivera.
If you have an extra slot, Haskins might be worth the investment, at least in dynasty or super flex formats.
Running Back: Royce Freeman, Denver Broncos (ADP: 12.10)
Why would anyone take a chance in fantasy on Freeman as the Broncos third-string RB? Well, here is why:
Trade Potential: NFL trade rumors for Freeman sparked when the Broncos signed Melvin Gordon to join Phillip Lindsay in the backfield. This could still happen. Running back injuries are among the most common in the NFL, and a team suddenly looking to trade for a healthy back, could make a move for Freeman.
Pedigree: Freeman is not far removed from the 1,639 scrimmage yards and 16 touchdowns he produced at Oregon in 2017. Since, the Broncos have used Freeman sparingly which makes him a pretty fresh option should he find himself in a bigger role with another team.
With this said, Freeman could have fantasy relevance for anyone who has an extra stash slot.
Wide Receiver: Preston Williams, Miami Dolphins (ADP: 11.09)
Williams is reportedly "on schedule" to play in Week 1 after tearing his ACL last November. This is why he is worth a glance in 2020:
Rookie Flash: Williams became a quick waiver wire claim after he produced 428 yards and three touchdowns in just eight games last year.
More Usage: Williams is expected to line up opposite of Devante Parker this season. This means Williams will be getting more targets when Parker is double covered. Whether it is Ryan Fitzpatrick or Tua Tagovailoa (or both) under center in Miami, Williams will be utilized.
Tight End: Ian Thomas, Carolina Panthers (ADP: Past Round 15)
Thomas is off the fantasy radar for the most part. But, here is why he could be relevant in 2020.
Number 1 Role: Thomas is now the top tight end with Greg Olsen no longer there to compete with. However, we do not have a lot to go on other than the 469 yards and three touchdowns Thomas recorded during 2018-19. With that said, he could be the red zone vertical threat at 6-foot-4, who quarterback Teddy Bridgewater depends upon.
If you have a deep roster, you could do worse than securing Thomas who has plenty of potential to surprise in 2020.