David Johnson, Todd Gurley and Melvin Gordon, Keep, Buy or Sell?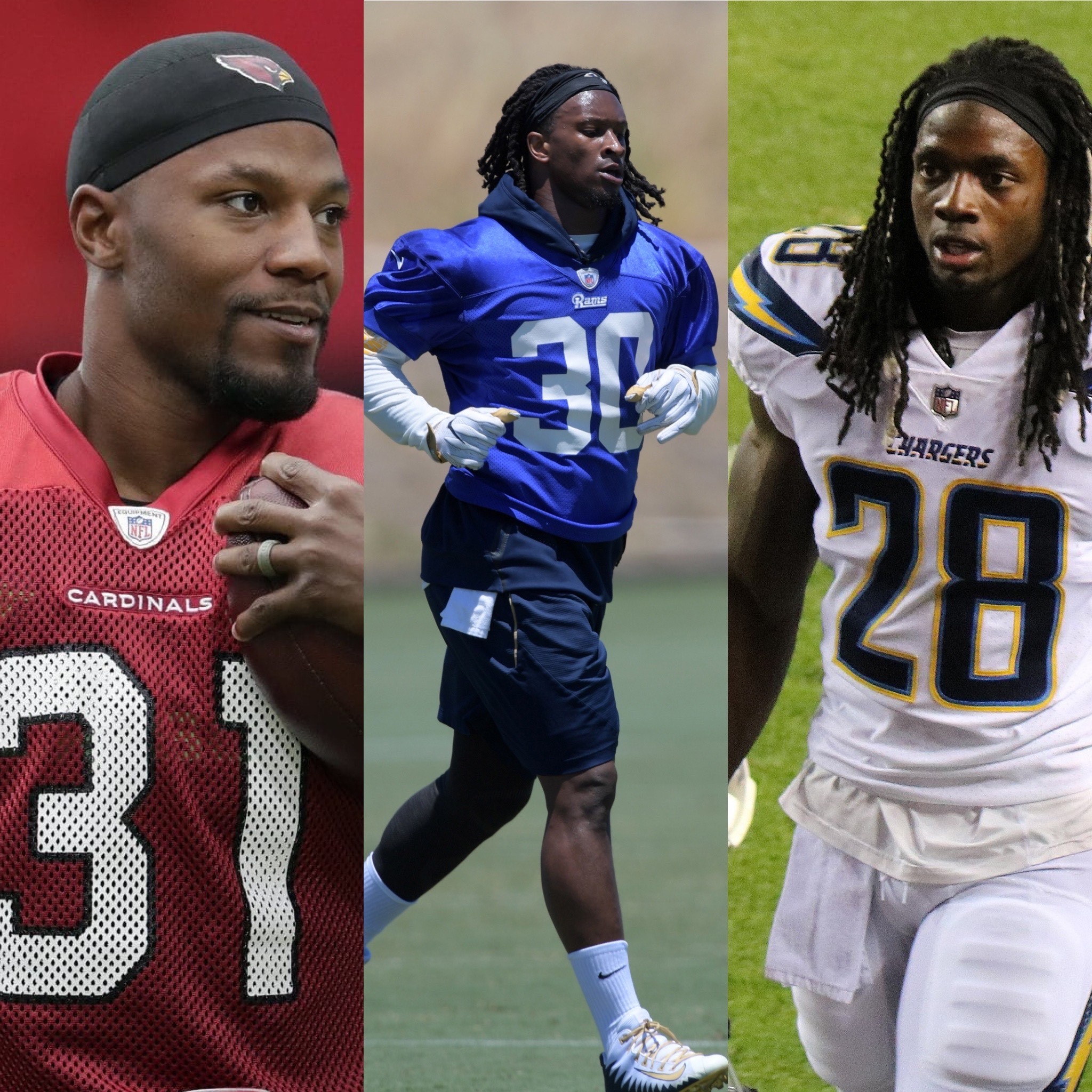 This offseason, the Arizona Cardinals traded David Johnson to the Houston Texans. Meanwhile, the Atlanta Falcons made a move to sign former Rams stud, Todd Gurley and the Denver Broncos went all in on Melvin Gordon formerly of the Chargers.
All three players will soon attempt to salvage their NFL careers as well as their fantasy football reputations heading into 2020. Moving forward, do we keep, buy or sell Johnson, Gurley and Gordon? The following poll I conducted on Twitter prompted me to evaluate these three backs.
David Johnson, Houston Texans: Sell
If you own Johnson in a dynasty league or take him in redraft, you might try to pimp him out for sale. His top-selling argument would be his incredible 2016 season when he posted a league-high 2,118 scrimmage yards and 20 touchdowns. Johnson also had a decent-ish 2018 campaign when he produced 1,386 total yards and 10 scores.
Sadly, if you picked the door Johnson was standing behind in 2019, you got the zonker prize. He was completely underused and sputtered out a dismal 715 total yard season, accompanied by six lowly touchdowns. But, one could push the argument that the Cardinals did not want to run him into the ground, knowing they were going to try and trade him this offseason.
There may be just the taker out there who believes Johnson will reinvent himself in Houston. However, that entire Texans offense — now minus DeAndre Hopkins — makes me nervous. Johnson's fantasy outlook for 2020 is murky in my opinion.
Melvin Gordon, Denver Broncos: Keep
If I already have Gordon, I'm keeping him. In redraft, I would take a chance on him now playing for Denver. Even with Phillip Lindsay in the backfield, Gordon is a capable three-down back who should garner the lion's share of the carries. Why else would Denver have signed him?
Gordon's current ADP (average draft position) is 2.10. This means he is being drafted as an RB2, but he sports plenty of potential to be a legit RB1. He is a keeper in my book and I can see second-year quarterback, Drew Lock leaning on Gordon a lot in 2020.
Todd Gurley, Atlanta Falcons: Buy
Gurley (if healthy) is a buy/draft joining a Falcons offense that earns its fantasy owners tons of points throughout the year. Because of his questionable health, Gurley's current ADP has slipped to 7.12. This is a fantastic draft opportunity for a guy who scored the most touchdowns 19 and 21 in 2017-18, respectively. He also tallied 3,924 total yards in those seasons.
Gurley is not very far removed from these glory years. I'd highly recommend getting him on your roster either on the cheap via a trade, or mid-round draft pick, especially in PPR leagues. Gurley is an exceptional pass-catcher and will be targeted plenty by quarterback Matt Ryan who averaged 41 passing attempts per game last season.